The Golden Age of Rock 'n' Roll
1996
Includes:
---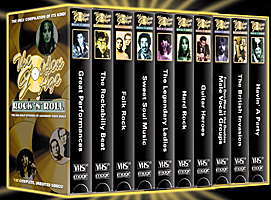 1996 VHS IEV:Image ID5953LB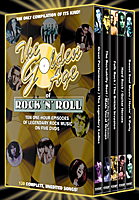 1996 DVD IED:Image ID5954LBDVD
From: Patrick Neve
This would be, to the best of my knowledge, the first time Frank Zappa has ever made an appearance on a DVD format. This was ten 49-minute episodes issued together as a five-disc DVD box set, and also in VHS form, both as a box set and individually. The runtime of the entire series is 485 minutes. The performances are taken from many sources such as Detroit's "Swingin' Time", The German "Beat Club", The German "Musik Laden", "The Big T.N.T. Show" etc. The Zappa entry is "Montana", and is included in the "Guitar Heroes" chapter.
From: Kristian Kier
TGAORNR was visible here in Germany, too, and Montana is from the Skansen performance, swedish tv 1973 (?). A shortened clip, btw, the guitar solo is missed or truncated. I taped some of the shows and saw the one with Zappa. Wasn't John Sebastian the host?
---
Contents:
"The British Invasion"—Includes: You Really Got Me (The Kinks), Don't Let Me Be Misunderstood (The Animals), Do Wah Diddy (Manfred Mann), How Do You Do (Gerry and the Pacemakers), I'm into Something Good (Herman's Hermits), Heart Full of Soul (The Yardbirds), Keep on Running (Spencer Davis Group), Jennifer Eccles (The Hollies), Go Now (The Moody Blues), The Kids are Alright (The Who), Itchykoo Park (Small Faces), Shapes of Things (Jeff Beck Group), My Generation (The Who).

"Hard Rock"—Includes: Jenny Take a Ride (Mitch Ryder and the Detroit Wheels), Born to Be Wild (Steppenwolf), You Keep Me Hangin' On (Vanilla Fudge), Summertime Blues (Blue Cheer), Are You Ready (Pacific Gas & Electric), On the Road Again (Canned Heat), Kick Out the Jams (MC5), Walk Away (The James Gang), You Ain't Seen Nothing Yet (Bachman Turner Overdrive), We're an American Band (Grand Funk Railroad), Hallelujah (Deep Purple), Paranoid (Black Sabbath), Under My Wheels (Alice Cooper).

"Havin' a Party"—Includes: Quarter to Three (Gary "U.S." Bonds), Louie, Louie (The Kingsmen), Wooly Bully (Sam the Sham and the Pharaohs), Mickey's Monkey (Smokey Robinson and the Miracles), Hang on Sloopy (The McCoys), Sealed with a Kiss (Brian Hyland), Shotgun (Jr. Walker and the All Stars), Land of 1000 Dances (Cannibal and the Head-hunters), The Name Game (Shirley Ellis), Kicks (Paul Revere and the Raiders), Wild Thing (The Troggs), Magic Carpet Ride (Steppenwolf), Mony, Mony (Tommy James and the Shondells), Soul Man (Sam and Dave).

"Sweet Soul Music"—Includes: Shop Around (Smokey Robinson and the Miracles), Baby Workout (Jackie Wilson), It's All Right (The Impressions), I Got You (James Brown), Come See About Me (The Supremes), Ain't That Peculiar (Marvin Gaye), Baby I Need Your Lovin' (The Four Tops), My Girl (The Temptations), Chain of Fools (Aretha Franklin), Green Onions (Booker T. and the MG's), In the Midnight Hour (Wilson Pickett), Hold On, I'm Comin' (Sam and Dave), Try a Little Tenderness (Otis Redding).

"From Doo-Wop to The Doobies: Male Vocal Groups"—Includes: Why Do Fools Fall in Love (Frankie Lymon and the Teenagers), Little Darlin (The Diamonds), Stand By Me (Ben E. King), Surfin' U.S.A.( The Beach Boys), Laugh, Laugh (The Beau Brummels), Lies (The Knickerbockers), You're the One (The Vogues), Midnight Confessions (The Grass Roots), Bend Me, Shape Me (The American Breed), Kind of a Drag (The Buckinghams), People Got to Be Free (The Rascals), To Love Somebody (The Bee Gees), Eli's Coming (Three Dog Night), China Grove (The Doobie Brothers).

"Guitar Heroes"—Includes: Johnny B. Goode (Chuck Berry), Bo Diddley (Bo Diddley), Rebel Rouser (Duane Eddy), Train Kept A-Rollin' (The Yardbirds), Sunshine of Your Love (Cream), Dazed and Confused (Led Zeppelin), The Thrill is Gone (B.B. King), Journey to the Center of Your Mind (The Amboy Dukes), Good Morning Little Schoolgirl (Ten Years After), Montana (The Mothers of Invention), Wild Thing (Jimi Hendrix).

"Great Performances"—Includes: Whole Lotta Shakin' (Jerry Lee Lewis), Please, Please, Please/Goodbye, So Long (Ike and Tina Turner), When Something is Wrong with My Baby (Sam and Dave), Respect (Aretha Franklin), I've Been Lovin' You Too Long (Otis Redding), I'm So Glad (Cream), Killing Floor (Jimi Hendrix), Summertime (Janis Joplin), Jailhouse Rock (Elvis Presley), And When I Die (Blood Sweat and Tears), Light My Fire (The Doors).

"Folk Rock"—Includes: I Don't Believe You (Bob Dylan), Turn! Turn! Turn! (The Byrds), I Ain't Marchin' Anymore (Phil Ochs), Do You Believe in Magic (The Lovin' Spoonful), It Ain't Me Babe (The Turtles), You Were on My Mind (We Five), All I Really Want (Sonny and Cher), California Dreamin' (The Mamas and the Papas), Handsome Johnny (Richie Havens), The 59th Street Bridge Song (Simon and Garfunkel), Sunshine Superman (Donovan), Lean on Me (Bill Withers), American Pie (Don McLean).

"The Legendary Ladies"—Includes: Tweedle Dee (Connie Francis), I'm Sorry (Brenda Lee), Mashed Potato Time (Dee Dee Sharp), Downtown (Petula Clark), Rescue Me (Fontella Bass), Ain't No Mountain High Enough (Marvin Gaye and Tammi Terrell), When You Walk in the Room (Jackie Deshannon), Stop in the Name of Love/My World is Empty Without You (The Supremes), Natural Woman (Aretha Franklin), Piece of My Heart (Janis Joplin), Special Care (Fanny), Proud Mary (Ike and Tina Turner), Tracks of My Tears (Linda Ronstadt).

"The Rockabilly Beat"—Includes: Rock Around the Clock (Bill Haley and the Comets), Maybellene (Chuck Berry), That's All Right (Elvis Presley), Blue Suede Shoes (Carl Perkins), Great Balls of Fire (Jerry Lee Lewis), Bye Bye Love (The Everly Brothers), I Fought the Law (The Bobby Fuller Four), Games People Play (Joe South), Down on the Corner (Creedence Clearwater Revival), C'mon (Poco), Delta Lady (Leon Russell), Sweet Home Alabama (Lynyrd Skynyrd), Ramblin' Man (The Allman Brothers Band).

Maintained by Román García Albertos
http://www.donlope.net/fz/
This section formerly maintained by Reverend Neve
This dog last modified: 2020-06-03