Peefeeyatko
October 10, 1991
WDR 3, Germany
60 min.
Rebroadcasts:
1993 by 1Plus
Dec. 1993 by N3 (Norddeutscher Rundfunk)
Includes footage from:
The True Story Of 200 Motels including:
The Perfect Stranger, Ballet de l'Opéra de Lyon choreographed by Lucinda Childs and Ralph Lemon, l'Orchestre de l'Opéra de Lyon conducted by Robert Hughes, Lyon, France, September 20, 1990
Musik Werkstatt interview by Henning Lohner (1990) including FZ ride through Hollywood and to a TV station
Scenes from Hollywood, c. 1990
Interview with John Cage
Interview with FZ & Iannis Xenakis, Paris, c. 1990
Interview with FZ & Pierre Boulez, Paris, c. 1990
Interview with Ray Wallis, Big Foot expert
Der Herr der Welt (Harry Piel, Deutschland, 1934)
Interview with Karlheinz Stockhausen
Interview with Matt Groening
Interview with Iannis Xenakis
Music included:
00:00-00:16 Synclavier
00:25-00:31 Penis Dimension (from Fillmore West, November 6, 1970)
00:31-00:38 The Perfect Stranger (from Lyon, September 20, 1990)
00:38-00:55 Sleeping In A Jar (from Fillmore West, November 6, 1970)
00:55-01:23 The Perfect Stranger (from Lyon, September 20, 1990)
01:23-02:58 Synclavier
08:25-08:55 Bogus Pomp (from LSO Vols. I & II)
09:09-09:35 The Girl Wants To Fix Him Some Broth (from The True Story Of 200 Motels)
09:45-10:56 Night School (from Jazz From Hell)
14:35-15:09 Synclavier
15:09-23:03 FZ plays the Synclavier
28:40-28:57 Synclavier
34:22-35:27 Synclavier
42:18-50:19 Synclavier ("Excerptis Frank Zappæ Elektronik MuZik")
51:22-52:10 The Perfect Stranger (from Lyon, September 20, 1990)
54:25-55:04 FZ plays the Synclavier
55:38-55:53 Synclavier
56:25-57:20 Synclavier
58:16-59:32 Synclavier
Writen & directed by Henning Lohner
Cast (in order of appearance):
FZ
Henning Lohner
John Cage
Iannis Xenakis
Pierre Boulez
Ray Wallis
Bob Stone
Karlheinz Stockhausen
Van Theodore Carlson
Diva Zappa
Matt Groening
Also appearing:
Mark Volman
Howard Kaylan
Jeff Simmons
Aynsley Dunbar
George Duke
Big Foot
Phyllis Bryn-Julson
Keith Moon
Ringo Starr
Walter Janssen
Sybille Schmitz
Walter Franck
George Bush
---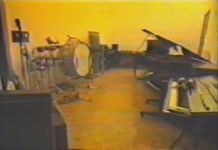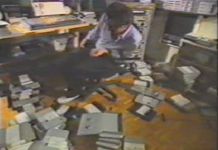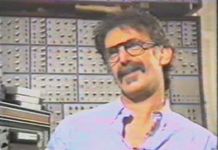 ---
YouTube: Peefeeyatko (Sweden broadcast)—Part 1 (09:43 min.) · Part 2 (09:58 min.) · Part 3 (09:56 min.) · Part 4 (09:43 min.) · Part 5 (09:59 min.) · Part 6 (09:49 min.)
---
Notes & Comments
From: Ebay seller "rehtakul"
A rare Austrian documentary by filmmaker Henning Lohner. This film is 60 minutes long and features a very unique look at FZ and his work, including footage in and around Frank's studio enviornment and his synclavier work. Picture and sound are VG+. Also included here is a very nice German tv special on FZ entitled Ein Leben Als Extravaganza. Broadcast in 1994, featuring various live and interview clips.
From: Robbert Heederik
This show is a documentary concentrating on FZ's technique of composition with the Synclavier. It has some great bits of dialogue, and there are wonderful intercut remarks by several composers such as Boulez, Xenakis, and Stockhausen (and some footage of FZ with the first two). The director also felt compelled to periodically insert b&w sequences from monster movies here and there, and also footage of some bozo talking about Bigfoot.

Well, to hear FZ talking about his music and demonstrating what he can do at his Synclavier is great fun. But the real gem here is that the musical background is ALL BY FZ—from his Synclavier. And there is a several-minutes-long segment in the middle entitled "Electronic Music by Frank Zappa" with no dialogue or distractions, not a demo, either, but what sounds like a well-realized piece of music already. (Maybe from CP3?) The dialogue etc. is in English, with what looks to me like Finnish (?) subtitles. (Anyway, not German!) If anyone knows how to get a high-quality transfer of music off a videotape I'd be very pleased to know.
From: Clarence
The first showing I'm aware of is * 10-10-91, 11.15 pm * on WDR3 (german tv w/*GERMAN* subtitles). (The german language is used in Austria as well, only their DIALECT is called Austrian—it's just their way of pronouncing german words).
Maintained by Román García Albertos
http://www.donlope.net/fz/
This section formerly maintained by Reverend Neve
This dog last modified: 2022-07-21