"Monkees Blow Their Minds"
March 11, 1968
The Monkees #57
NBC-TV
3 min.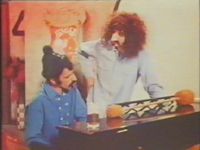 DVD Release:
Disk 5 of
The Monkees: Season 2 (5-Disc Series) (1967)
Studio: Rhino / Wea
DVD Release Date: November 18, 2003
Filmed At: Screen Gems Studios, Hollywood, CA.
Filming Dates: April 17-20, 1967 (this episode); November 1967 (Michael Nesmith's
chat with Frank Zappa)
Original Air Date: March 11, 1968

Written by Peter Meyerson.
Directed by David Winters.
We got a call about four days ago from The Monkees. And they have a show that they're going to do where each one of The Monkees gets to interview one of his favorite personalities from the world of music. And Mike Nesmith picked me and David Jones— No, uh, not David Jones, uh, what's the other guy's name . . . Micky Dolenz picked Tim Buckley. So we're gonna film that when we're in Hollywood in December.
Michael Forrest Zink
This was the opening 5 minutes or so of episode 57 ("Monkees Blow Their Minds") of the Monkees' TV series, where Frank played Mike and Mike played Frank. The whole thing is actually pretty funny. It ends with Mike conducting Frank as he destroys an old car in the Monkees' garage while "Mother People" plays.
Marshall Joseph Armintor
Yeah, I remember an appearance of FZ's in an episode of the Monkees, although it was in a little vignette before the beginning of the storyline. FZ and Mike Nesmith are leaning on the hood of a VW beetle inside the studio, and after some introductory chit-chat, they begin talking about the Monkees' popularity. FZ says something like, "Well, Mike, do you have any plans as to what you're gonna do when this Monkees thing is over?" Nesmith says, "Well, yeah. I thought I might go join the Byrds." FZ chuckles heartily at this, as does Nesmith. "Yeah, I might go do that soon myself as well," says FZ. It's a sweetly unpretentious moment that pisstakes the whole TV coporate thing that created the Monkees...but didn't control them totally.
Ben Harmsen
Its more bizarre than that. The above episode has FZ and Nesmith in role reversal. FZ is Mike Nesmith wearing a beanie hat interviewing Nesmith as FZ with an obviously fake Zappa nose and facial hair (like Ringo in 200 Motels).
Vladimir Sovetov
Could anyone who saw The Monkees' TV show episode "The Monkees Blow Their Mind" back in 1968 or later on video (if it exits) agree that Mike Nesmith impersonating Frank Zappa was a protagonist of Larry The Dwarf character from 200 Motels. Pictures on page 47 of Greg's new book look like an obvious proof.
Eric Peterson, December 31, 2005
There is commentary by Michael Nesmith on the DVD release which explains:

This was recorded in April of 1967 but did not air until March of 1968. According to Michael Nesmith, the Monkees and everyone else involved in the production of the Monkees, were "completely whacked" by this time. This particular episode was the 2nd to last for the series.

One of the things they decided to do toward the end was to use the program as a vehicle to give artists that they (the Monkees) were interested in giving exposure to. Artists who would not typically get this type of commercial exposure. This Frank Zappa guest appearance was suggested and arranged by Nesmith. Frank agreed to do it on the condition that he could go on playing the part of Mike and Mike agreed if it was OK for him to play Frank.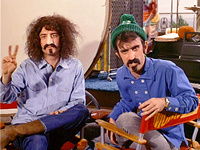 ---
The Car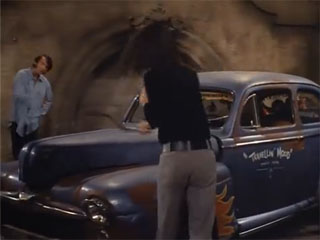 Charles Ulrich, May 25, 2015
Apparently it is a 1947 Ford Tudor.

The Monkees, Episode #58,"Mijacogeo" (aka "The Frodis Caper"), March 25, 1968

Tim Buckley, "Song To The Siren"