Head
Premiere: November 6, 1968
Filming dates: February 11-May 21, 1968
Color 85 min.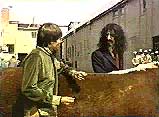 Directed by Bob Rafelson
Written and produced by Bob Rafelson and Jack Nicholson
Peter Tork
David Jones
Micky Dolenz
Michael Nesmith
Annette Funicello—Minnie
Timothy Carey—Lord High 'n Low
Logan Ramsey—Off. Faye Lapid
Abraham Sofaer—Swami
Vito Scotti—I. Vitteloni
Charles Macaulay—Inspector Shrink
T. C. Jones—Mr. and Mrs. Ace
Charles Irving—Mayor Feedback
William Bagdad—Black Sheik
Percy Helton—Heraldic Messenger
Introducing
Sonny Liston—Extra
Ray Nitschke—Private One
Carol Doda—Sally Silicone
Frank Zappa—The Critic
June Fairchild—The Jumper
Terry Garr—Testy True
I. J. Jefferson—Lady Pleasure
and
Victor Mature as The Big Victor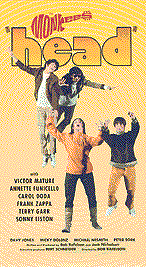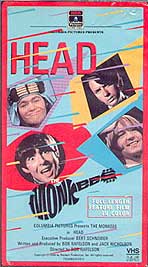 From unknown
The movie also features Rafelson, Nicholson, Jon Andersen, and Dennis Hopper in interesting cameos during the café sequence. The origin of the movie generated in Ojai, California, where the foursome, Rafelson, Schnieder, and Nicholson ventured to generally spend an entire weekend in a resort motel verbally tossing story ideas into a tape recorder—which generally became the script for HEAD.
From the box:
Join Davy, Peter, Micky and Mike as they Monkee around in HEAD, a full-length feature fantasy! A technically innovative rock musical, HEAD features appearances by Frank Zappa, Annette Funicello and Teri Garr. Written and produced by Jack Nicholson and Robert Rafelson.
Plot Outline: The Monkees are tossed about in a psychedelic, surrealist, plotless, circular bit of fun fluff.
From: Michael Forrest Zink
Frank is in the movie "HEAD", playing "The Critic" as the credits state. His only appearance on screen is with Davey Jones after the "Daddy's Song" sequence, and it goes like this.

For some reason, Frank has a cow with him in this scene. Still haven't been able to figure out why...
From: Keith Shiner
Obviously it was for future CC to the La:ther CD cover.
From: Patrick Neve
This flick is currently available from Rhino Video.

And here's a fan site dedicated to the movie:
http://members.tripod.com/~ahiii/movie.html

Also, a Quicktime video clip of the Zappa section is available here:
http://www.ripon.edu/students/quickr/head1.mov
Trailer

See also "Monkees Blow Their Minds"
Appears in:
---
Filming Date & FZ Involvement
Calvin Schenkel, Cal Schenkel Magazine, September 1981
Early in 1968 Frank flew to L.A. to do a bit in the Monkees' movie Head. Returning to the snow in New York, I think he decided it was time to make plans for an exodus.
Frank Zappa of the Mothers of Invention flew into Los Angeles for a "walk-on" in the first Monkees feature. He is the only pop star—except for the Monkees, of course—scheduled to appear in the film.

Zappa plays the role of a cowman in the production, sharing the camera in one scene with Davey Jones and a huge white faced steer named Torro.

"What happens is this," Zappa said between takes. "Davey finishes singing a really cruddy song, like 'Winchester Cathedral' and I come up to him, pulling this bull behind me, and I tell him the song is a piece of - - - - ."

In actuality, Zappa's lines were somewhat subtler, delivered ad lib as is much of the rest of the film. "But," Zappa said, "no question about it, they have me saying the song is rotten—which it is." He paused and grinned. "They're trying to make a heavy out of me."

The film is as yet untitled and is tentatively set for a late summer release by Columbia. It is being produced by Raybert Productions, producers of the recently cancelled Monkees TV series.
Mike [Nesmith] is a big fan of The Mothers of Invention, so he asked if Frank Zappa, the Mother's leader, couldn't have a bit part. The others said "We can dig it," and presto, chango Frank Zappa walks into the film pulling a huge steer behind him.

Yoram Kahana—Davy jones and Frank Zappa (1968)
Head
The Monkees, Colgems Records, December 1, 1968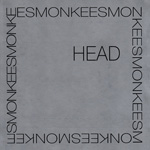 The soundtrack album intersperses the six full-length songs ("Porpoise Song", "Circle Sky", "Can You Dig It?", "As We Go Along", "Daddy's Song" and "Long Title: Do I Have to Do This All Over Again?") with bits of Ken Thorne's incidental music, dialogue fragments, and sound effects culled from the film. The selection of music and dialogue approximates the flow of the movie itself, and was compiled by actor Jack Nicholson, who co-wrote the film's shooting script.

[...]

Side 2
No.: 5.
Title: "Poll"
Lead vocals: Michael Nesmith, Davy Jones, Peter Tork, Frank Zappa, Timothy Carey
Length: 1:13

[...]

Poll

Spoken words by Michael Nesmith, Davy Jones, Peter Tork, Frank Zappa, Timothy Carey, Man 1, Man 2, and Man 3
Additional informant: Jon Andreas Håtun

Maintained by Román García Albertos
http://www.donlope.net/fz/
This section formerly maintained by Reverend Neve
This dog last modified: 2022-07-23