The Steve Allen Show
March [14 or 15], 1963 (recording date)
Syndicated by Westinghouse Broadcasting
In Los Angeles, it aired on KTLA-TV, channel 5, on March 27, 1963
17 min. B&W
Parts appear in: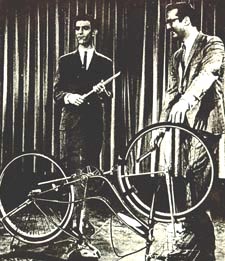 FZ—bicycle
Steve Allen—bicycle
Johnny Jacobs—poetry
+
Instrumental Ensemble
Pre-recorded Tape
Progress-Bulletin, Pomona, March 26, 1963
Frank Zappa, 22, Ontario resident and composer of music, serious and otherwise, will be seen on television tomorrow night playing a bicycle concerto for two with Steve Allen.

The show is at 11 p.m., Channel 5. "It's very funny," said Zappa. "You play a bicycle by plucking the spokes and blowing through the handle bars."

Other methods of producing "cyclophony" is to stroke the spokes with the bow of a bass fiddle, twirl the pedals and let air out of the tires.

The Zappa-Allen concerto will be abetted by a man in the control room fooling around with a tape recorder and by a jazz group which will supply toneless background noise.
Screen Shots
From David Willis (October 31, 2003)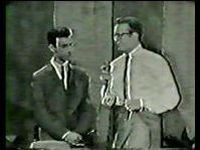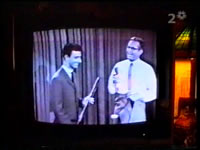 ---
YouTube: Steve Allen Show—Part 1 (07:49 min.) · Part 2 (08:30 min.)
Recording Date

Steve Allen Show 3-327
DATE 3/14/63
Personnel: Frank Zappa (vocal, bicycle); Steve Allen (vocal, bicycle); Johnny Jacobs (spoken word); The Steve Allen Orchestra conducted by Donn Trenner (accompaniment)
Recorded: March 15, 1963 at The Steve Allen Playhouse (1228 N. Vine St., Hollywood, CA) with material prepared at Pal earlier that month
The Two Bicycles
You blow through the handlebars and you can strum the spokes like a harp and you can also bow the spokes and play bass fiddle, there. Meanwhile, I had someone recite poetry. I said 'John, just go ahead and say your favorite poem,' which was Mary Had a Little Lamb . . . obviously. I got Steve Allen to blow it while I worked the spokes, meanwhile I had tinker toy music going in the background, it was quite an extravaganza.
FZ, interviewed by Matt Groening, Zappa!, 1992
MG: How did you get on The Steve Allen Show in '62?

Just called them up, and said I play the bicycle and you know, they were booking all kinds of goofy things on there. The tape was given to me as a birthday gift a few years ago. Someone found a copy of it and sent it over.

MG: What was it like?

Well, first of all, I'm clean-shaven, and I'm wearing a suit and a tie, and my speech patterns resemble the way Dweezil talks now, which I thought was very odd.
Paul Buff, quoted by Rip Rense, The Lost Episodes (1996) liner notes
I remember this very vividly. After trying to get on the Steve Allen Show week after week as a serious musician, and again mostly with jazz, Frank one day said he was going to take a different approach, and he'd get on that day. He came back that evening, and said "well, I'm going to be on Steve Allen next week." I asked him how he got on. He said, "I just told them I play the bicycle." So he got up there and made noises on the bicycle like it was a percussion instrument, and had Steve Allen blowing on the handlebars, and that's what got him on. And in part, I think that convinced him of the viability of producing the kind of music he ended up producing.
In the early 60's when Frank was on the Steve Allen show, he was showing everyone how the bicycle was a musical instrument and the bike he used was mine!!
Don Preston, January 28, 2002
The bicycle was part of my percussion junk in my garage. The channel 7 audition was probably 6 months before the Steve Allen Show
Maintained by Román García Albertos
http://www.donlope.net/fz/
This section formerly maintained by Reverend Neve
This dog last modified: 2022-07-23