Shelley Duvall's Faerie Tale Theatre: "The Boy Who Left Home To Find Out About The Shivers"
September 17, 1984
Shelley Duvall's Faerie Tale Theatre, episode #15
Showtime
52 min.
Directed by: Graeme Clifford
Stars: Dana Hill, Christopher Lee, Peter Macnicol, Frank Zappa, Vincent Price.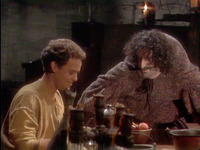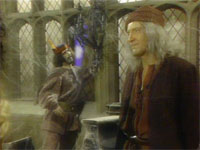 A cowardly king offers a young man immense wealth and riches if he can rid the monarch's castle of a ghost . However, the daring lad has an unusual problem—he has no fear. With Peter MacNicol, Christopher Lee, Dana Hill, Vincent Price—and Zappa as "Attilla."
---
FZ on Sounds (Australian TV, 1983)
Recently I, just for a laugh, I played the role of a hunchback in a fairy tale that was completed about three days ago, on a show called Faerie Tale Theatre which was produced by Shelley Duvall, and airs on Showtime cable network here in the United States. I don't know if they have distribution outside the US [...] I think that they probably would be trying to export this thing, but . . . It's a whole series of fairy tales. The first one that they did was "The Frog Prince" and it starred Robin Williams as the frog. He was really great. And, things are all done on video, they use a lot of video effects. Mick Jagger did the last one that was on the air, he played the Mandarin in "The Nightingale," and . . . So I got to be a hunchback in a story called "The Boy Who Left Home To Learn About The Shivers." [...] Eventually, yes, he found out about the shivers in one of the more humorous scenes in the thing. [...] Here are my lines, "Huh huh huh . . . " And, "Ooooh . . . heh heh . . . "
JENN11098
No other children's series has ever been written, produced, directed and acted by more Oscar, Tony and Emmy-winning artists.
Eric Peterson, June 15, 2006
Frank is not in either the opening or closing credits.
---
Playhouse Video 6393
VHS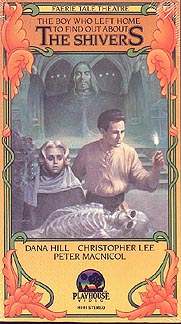 ---
CBS/FOX
VHS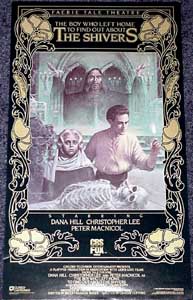 This is an 11.5" X 20" video store display that was produced by CBS/FOX in 1984. Source: Ebay seller "tropiccomics.com".
---
CBX/FOX 6393-80
Laserdisc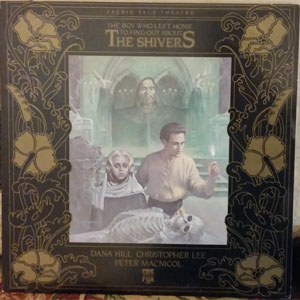 I was rummaging around the laserdisc bins at a local record store this afternoon and came up with my most recent Zappa collection acquisition: Shelley Duvall's Faerie Tale Theatre, "The Boy who left home to find out about The Shivers," catalog # 6393-80 on LASERDISC!!!
---
November 16, 2004
DVD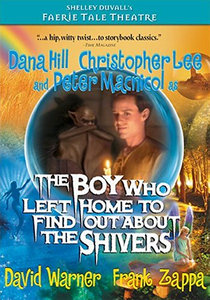 ---
Additional informant: Sergio Martorelli
Special thanks to Eric Peterson and bradleybee for the screenshots.

Maintained by Román García Albertos
http://www.donlope.net/fz/
This section formerly maintained by Reverend Neve
This dog last modified: 2014-03-08