Alaska: Outrage At Valdez
Release date: March 25, 1990
Formats:
VHS-NTSC (English)
VHS-NTSC (French)
Laserdisc
Time: 48 Minutes
Music: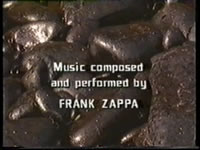 ---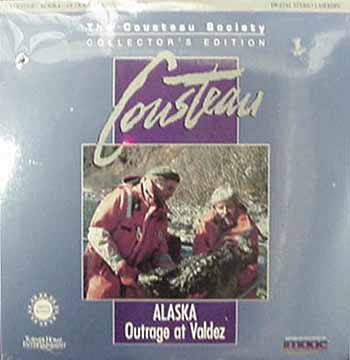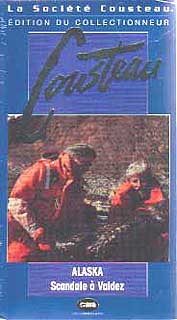 ---
Notes & Comments
FRANK ZAPPA: We've changed over the boards, so we're no longer mixing the live tapes. We finished . . . in theory, we finished all that. We're now getting ready for Synclavier mixes. I just took a job scoring my first TV show for Jacques Cousteau, which I have to deliver before I go back to Russia on the 15th.

ERIC BUXTON: You're going back to Russia on the 15th of January?

FRANK ZAPPA: Yeah, and Cousteau is going to be over there at the same time, and I'm taking a television crew with me. I'm hoping to interview him while I'm there.
WM: So it sounds there aren't too much place for the music in your life now.

FZ: I've just completed recording the music for the new movie of J.-Y. Cousteau. It's about ecology, oil wells and spoiling of the sea near [Valdez] in Alaska.
DS: What can you tell us about the process of composing the soundtrack to OUTRAGE AT VALDEZ? Did you have video stuff that you were able to use as a reference for the composing of it?

FZ: Well, that was, in it's own way, a little disaster, because they came to me at the last minute, and they hadn't really completed putting the show together, so I started working on some of the music without having any pictorial material. I knew kind of what the scenes were gonna be, so I started sketching the stuff out before I even got the videotape. So then they gave me the videotape, and I finished the cues off, and timed them exactly to the picture, to the code that was on the videotape. But it wasn't the final edited version of the show. I mean, very seldom does a composer get to do work to the final, final, final thing, 'cause they're always fuckin' with the films up until the last minute. Unfortunately, the tape that they gave me to write the music to, the one that wasn't the final, was done with "non-drop code." Do you know what that means?

DS: No.

FZ: OK. Well, somebody out there will know this. And then, when they gave me the final videotape, it had "drop frame code." These two codes are different. That meant that every one of the cues that I had written for this whole show had to be changed in order to fit the picture. I had to change all the cues and mix it all in two days, because I was gettin' on a plane for Russia, and they had to give the thing to Turner in a hurry. That was two of the worst days of my life. It was so fuckin' painful that at the end of it I was so exhausted that I couldn't take the flight. I just crashed for a day, and then got on the plane for Russia. So I missed one day's worth of appointments over there, but there was 'nothing that could I be done. It was just an emergency job.

DS: One o' those things.

FZ: Yeah. That's why I don't like doin' those kinds of things. I don't like to treat my body that way.

DS: How satisfied were you with the ultimate result?

FZ: Well, I know it coulda been better. I don't like to have to do anything under duress.

DS: Sure.

FZ: I'm sure it coulda been a hundred times better.

DS: Well, your fans loved it.

FZ: Yeah? Good. They shoulda heard it the way it was supposed to have been. (laughter)
From: Dave Jones
Jacques Cousteau's documentary on Alaska: outrage at Valdez when the supertanker Exxon Valdez ran aground & dumped 11 million gallons of crude oil in the Prince Williams sound & destroying its natural habitat, music was done for this film by Frank Zappa (I'm pretty sure this music by Frank was exclusive to this film documentary at the time it was done in 1990). 48 minutes extended play digital sound stereo.
From: Patrick Neve
Jean-Michael Cousteau, son of Jacques Cousteau, investigates first-hand the devastating impact of the U.S.'s largest oil spill. Frank produced the music for this film, it is all unreleased Synclavier music of very good quality. There was a Dutch radio broadcast of the music, which by itself lasts 14:18. But the film is moving, and worth owning in its own right, or for completionist sake. Up until recently it was still readily available from Bennett Marine Video, which was distributing the Cousteau films: http://www.cousteausociety.org

However I can't seem to find any mention of it online now. I ordered it from Bennett Marine Video by telephone. Here is their information, you might give them a call:

Bennett Marine Video Inc
8436 West 3rd Street, Suite 740, Los Angeles CA 90048-4100, telephone: 800/733-8862 or 213/951-7570

or:

Movies Unlimited 6736
Castor Avenue, Philadelphia PA 19149, telephone: 800/523-0823 or 215/722-8298.
Maintained by Román García Albertos
http://www.donlope.net/fz/
This section formerly maintained by Reverend Neve
This dog last modified: 2022-09-25