The Mike Douglas Show
October 28, 1976 (aired November 11, 1976)
NBC TV
15 min.
Hosted by Mike Douglas with Jimmie Walker. The other guest in the FZ segment is Kenny Rogers. FZ talks about the names of his albums, old R&B, the early days of The Mothers, Alice Cooper, classical music, drugs and A Token Of His Extreme.
Including: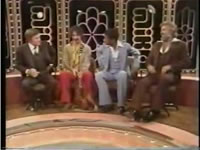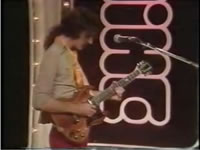 YouTube: Mike Douglas Show—Part 1 (07:53 min.) · Part 2 (09:22 min.)
The Date
From Patrick Neve
10-28-76 Mike Douglas Show (most likely date)
10-29-76 Mike Douglas Show
11-09-76 Mike Douglas Show
11-11-76 Mike Douglas Show
11-16-76 Mike Douglas Show

OK, there are five dates listed for the same TV show within three weeks, and something tells me Zappa didn't appear on all five dates. Different sources list different dates. Anyways, this is the episode where Frank plays Black Napkins with the Mike Douglas band accompanying. I'll assume this only happened once. The audio portion of this occurance has appeared on several bootlegs, including "Apocrypha", and "Zut Alors". The date it aired is reported as being Nov. 11th.
From: Jon Naurin
Mike Douglas 1976: At the 10/29 concert talks about being on the show "yesterday". So, 10/28 seems like an educated guess for the correct date.
FZ (Philadelphia, October 10, 1976)
I did the Mike Douglas Show yesterday. It's gonna be on November the 10th, and I got a chance to play ["Black Napkins"] with Mike Douglas' studio orchestra.
GUEST: Zappa, Frank
DATE: 11/13/73

GUEST: Rogers, Kenny
DATE: 11/11/76
Availability
From unknown
This episode has been released on VHS by Rhino Home Video. It's unknown to me if the musical performace was included.

The Mike Douglas Show Vol. 7

Released: Dec 12, 2000
Format: VHS (NTSC format)
Length: 70 minutes
Catalog# 972841

Guests:
Kenny Rogers
Marie Osmond
Jimmie Walker—Co-Host
David Wallaschinsky
Frank Zappa
Elayne Boosler
Donny Osmond
Robert Goulet
Michael Medvin
From: http://www.ifilm.com
Synopsis: Mike Douglas, with special co-host Jimmie Walker, provide another special episode of this classic 1970s talk show. Donny and Marie Osmond and Kenny Rogers talk about their careers in music, while Frank Zappa introduces a music video from his documentary A TOKEN OF HIS EXTREME. Authors Michael Medvin and David Wallechinsky talk what has happened to the Class of 1965, and comedienne Elayne Boosler makes an appearance.
From: Patrick Neve
According to our team of informants, this commercial release also includes the Black Napkins portion of the program.
From: ebay seller "vidvault"
(From our video warehouse. Guaranteed Brand New, Mint & Factory Sealed!) This is the actual broadcast complete and uncut (minus the commercials only). The Legendary Daytime Talk Show That Started It All! ~ "THE MIKE DOUGLAS SHOW ~ NOVEMBER 9, 1976 ~ Starring Mike Douglas with co-host Jimmie Walker and guests Donny & Marie Osmond, Frank Zappa, Kenny Rogers, Robert Goulet, Elayne Boosler, And What Ever Happerend To The Class of '65.—Mike's co-host Jimmie Walker (Good Times), is one of TV's most "dyn-o-mite" comedians. Kenny Rogers, now on his own, talks about what it's like performing without the First Edition. And, in a Hollywood segment direct from the lawn of the Century Plaza Hotel, Donny & Marie, who are all of 16, talk about their hit television show, gold records, feelings about marriage and plans for the future. Then, back at the studio, Frank Zappa introduces a bizarre animated music video from his documentary A Token Of His Extreme, years before music videos were invented. He also discusses his early years, his new album, his anti-drug tv spot and his discovery, of sorts, of Alice Cooper. Authors Michael Medvin and David Wallaschinsky tell what really happened to the Palisades High School Class of '65. It seems life hasn't turned out quite as expected. Then a young stand-up comedienne, Elayne Boosler, makes a stand-out impression. Westinghouse Broadcasting Company November 9, 1976. Color, Not Rated, 70 Minutes, VHS.
Additional informants: Jon Naurin, Brian Lagerman, Jillis Stada, IC108

Maintained by Román García Albertos
http://www.donlope.net/fz/
This section formerly maintained by Reverend Neve
This dog last modified: 2017-11-02