Live From Greenwich Village—Volume One
1996
VHS NTSC
60 min.
(c) TAE Productions, distributed by Marathon Music & Video
Includes:
---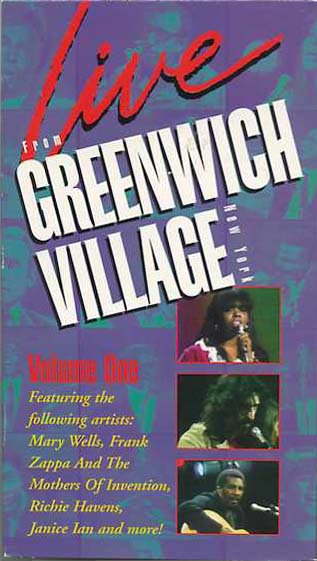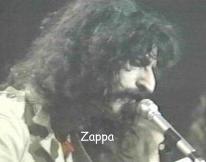 Chambers Brothers- Going Up Town
Janice Ian- Lonely One
Richie Havens- Marching To The Concord War
Frank Zappa & The Mothers of Invention- What's Got Into You
Mary Wells- Two Lovers
Chad Mitchell- The Other Side Of This Life
Richie Havens- Streets Of The City
Janice Ian- Be My Friend Again
Chad Mitchell- Quiet Room
Balikrishna- Sitar Medley
Jake Holmes- Faces; Golden Quiet
Frank Zappa & The Mothers of Invention- Excerpts
Spanky & Our Gang- Suzanne
From: Patrick Neve
This tape is the first of seven volumes, apparantly unavailable separately, but Amazon sells all seven tapes as a collection. The Mothers appearance on this tape is almost certainly the Bitter End 1967 performance.
From: Ebay seller "tommywood"
The Video Features Live Performances From the 1960's at Various Greenwich Village, New York NightClubs Such as The Gaslight, The Village Gate, The Bitter End, and The Village Vanguard!
From: Biffyshrew (October 26, 1997)
The Mothers material is priceless. They mime to a pre-recorded "Son Of Suzy Creamcheese"...except that instead of lip-synching the words, FZ stands there mouthing "motherfuckermotherfuckermotherfucker" or something approximately like that for the duration of the song. The second MOI clip is the unreleased "In Memoriam Heironymus Bosch." (Both cuts are misidentified on the video packaging, BTW.)

There's a guy off to the side of the stage who I swore at first was Theodore Bikel, but it ain't—it's one of the club owners.

Most of the rest of the seven-tape set is pretty lame, but there are a few decent moments scattered throughout (Nina Simone, Richie Havens, Melanie...hey, I like Melanie), at least if you like corny folk-club vibes and psychedelic wannabes...the Kenny Rogers & the First Edition clips are truly horrible, but ROTFL hilarious. OTOH, one of the tapes is devoted to comedy, and is resolutely, consistently unfunny. Even Woody Allen's appearance is worthless.

I gather you can get longer versions of the MOI clips from video traders, but you'll never get 'em in such perfect picture quality from a home dub.
---
Additional informants and scan: o2bnewagain

Maintained by Román García Albertos
http://www.donlope.net/fz/
This section formerly maintained by Reverend Neve
This dog last modified: 2015-10-25