The Dub Room Special!
Premiered:
October 31, 1982
Ritz, NYC, NY
Includes footage from:
The music:
Musicians:
1974:
FZ—guitar, percussion, vocals
Napoleon Murphy Brock—sax, vocals
George Duke—keyboards, finger cymbals, tambourine, vocals
Ruth Underwood—percussion
Tom Fowler—bass
Chester Thompson—drums
1981-82:
FZ—lead guitar, vocals
Ray White—guitar, vocals
Steve Vai—stunt guitar, vocals
Tommy Mars—keyboards, vocals
Robert Martin—keyboards, vocals
Ed Mann—percussion, vocals
Scott Thunes—bass, vocals
Chad Wackerman—drums
Cast (as themselves, more or less in order of appearance):
FZ
Craig Latta
Tim Clark
Warren Cuccurullo (from Baby Snakes on a TV screen)
Phyllis Altenhaus (from Uncle Meat on a TV screen)
Ruth Underwood
Napoleon Murphy Brock
George Duke
Tom Fowler
Chester Thompson
Bruce Bickford
Thomas Nordegg
Mort Libov
Richard Hart
Ed Mann
Ray White
Chad Wackerman
Robert Martin
Scott Thunes
Tommy Mars
Kim Thompson
Steve Vai
Massimo Bassoli
John Smothers
Charles "Smitty" Schmidt
Marty Perellis as the gorilla
Ron Menzies
Stumuk (from Uncle Meat on a TV screen)
---
Related Links:
Credits
Production Assistants
MICHELLE GABLER
WENDY CHARLES
PAUL HOF
COY FEATHERSTON
The Premiere
October 31, 1982
Ritz, NYC, NY
From: Patrick Neve (July 1, 2003)
The New York Times
October 29, 1982, Friday, Late City Final Edition

Premiere of Frank Zappa Special

Since 1974, the rock guitarist Frank Zappa has brought his band to New York for annual appearances on Halloween. Despite the runaway success of his song "Valley Girl," the band is not touring this year, but Mr. Zappa has them on videotape. Sunday at the Ritz, he will give the premiere showing of "The Dub Room Special," a 90-minute documentary of two Zappa bands, including footage from his 1981 Halloween show at New York's Palladium. The videotape also includes performances by a 1974 edition of the band and animation by Bruce Bickford, who collaborated on Mr. Zappa's last documentary, "Baby Snakes."

Much to Mr. Zappa's avowed discontent, he is better known for his cynical, scatological humor than for his abilities as a guitarist and band leader. This year, however, Mr. Zappa's performance will consist of introducing the video and being host to a costume party and contest, in which winners will receive a Las Vegas vacation.

There will be two screenings, at 8 P.M. and midnight; admission is $11. The Ritz is on 11th Street, between Third and Fourth Avenues; information: 254-2800.
General Notes
From: Robbert Heederik
The footage on Dub Room Special is from KETC (sic) LA tv, a 1974 show that was broadcast. The footage for this performance exists in two forms, about 5 songs on Dub Room Special, and a 60 minute chunk on a tape later named "A Token of His Extreme". These two forms have overlapping footage, but each has different footage as well. Songs include Inca Roads, Florentine Pogen (both of which were used for the studio versions on One Size Fits All), Approximate (intro only), Stinkfoot, Cosmik Debris, Montana, Dupree's Paradise (intro), A Token of His Extreme, and a few more I am probably forgetting.
From: Jillis Stada
Roomservice (w/ Mort Libov), Approximate, Cosmik Debris, Montana, Florentine Pogen w/Marty Perellis as Gorrila, Stinkfoot, Inca Roads
Notes On The Songs
Flakes
Q: If I'm correct, the only song you sang is 'Flakes'?

E: Well, it happened because it was Adrian Belew's job, but he wasn't sure how to do it and so I used to give him a ride home from rehearsals. And he asked me how I would do Bob Dylan, so we were sitting in the car doing Bob Dylan. And then when Adrian wasn't in the band any more, it was me.
The Video Tape
1982 (1985?)
Barking Pumpkin
90 min. VHS/Betamax
This video was a Barking Pumpkin mail-order-only release that came in a plain black plastic box.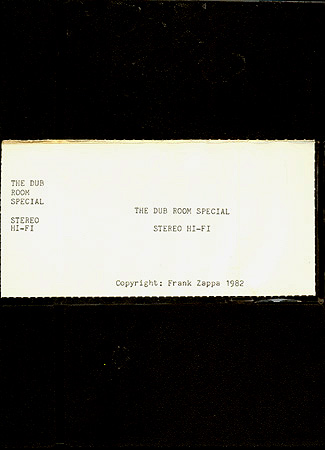 Originally released mail order exclusively on Honker Home Video in VHS and Beta in 1985, The Dub Room Special! has been a tough find for Zappa fans.
Originally released on VHS and Beta in 1982, Dub Room Special has been a tough find for Zappa fans.
Bootleg Versions
From: Ibaranoff24
Bootleg copies of the Dub Room Special are turning up on eBay.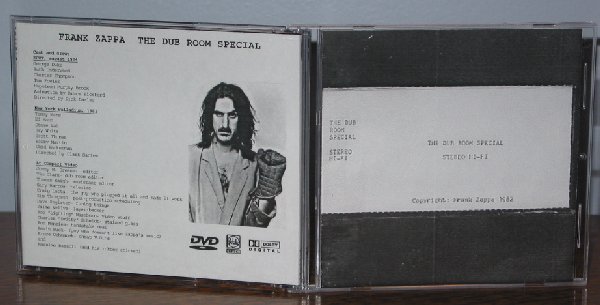 From Sergio Martorelli: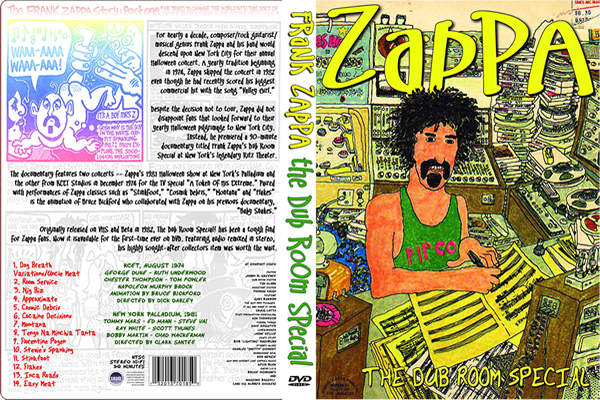 The DVD
October 17, 2005
Eagle Vision EREDV375
All Regions
October 18, 2005
Eagle Eye
Region 1
Zappa, Frank: The Dub Room Special! DVD

Synopsis

For nearly a decade, composer/rock guitarist/musical genius Frank Zappa and his band would descend upon New York City for their annual Halloween concert. A yearly tradition beginning in 1974, Zappa skipped the concert in 1982 even though he had recently scored his biggest commercial hit with the song "Valley Girl." Despite the decision not to tour, Zappa did not disappoint fans that looked forward to their yearly Halloween pilgrimage to New York City. Instead, he premiered a 90-minute documentary titled Frank Zappa's Dub Room Special at New York's legendary Ritz Theater.

The documentary features two concerts—Zappa's 1981 Halloween show at New York's Palladium and the other from KCET Studios in December 1974 for the TV special "A Token Of His Extreme." Paired with performances of Zappa classics such as "Stinkfoot," "Cosmik Debris," "Montana" and "Flakes" is the animation of Bruce Bickford who collaborated with Zappa on his previous documentary, "Baby Snakes."

Originally released on VHS and Beta in 1982, The Dub Room Special! has been a tough find for Zappa fans. Now it is available for the first-time ever on DVD. Featuring audio remixed in stereo, this highly sought-after collectors item was worth the wait.

Tracklisting:
1. Dog Breath Variations/Uncle Meat
2. Room Service
3. Nig Biz
4. Approximate
5. Cosmic Debris
6. Cocaine Decisions
7. Montana
8. Tengo Na Minchia Tanta
9. Florentine Pogen
10. Stevie's Spanking
11. Stinkfoot
12. Flakes
13. Inca Roads
14. Easy Meat

Released on: 10/18/2005
Synopsis

Previously released on VHS and Beta and only available through mail order, Frank Zappa's Dub Room Special is an extremely rare TV special comprising two live performances from one of Rock's great individuals.

Zappa's unparalleled abilities as a composer, guitarist, and absurdist/social commentator run rampant on The Dub Room Special—and it is a unique window on his willingness to push the envelope of what is possible no matter how improbable. Selections from two separate concerts, one, called A Token of His Extreme, shot in 1974 at Los Angeles public television station KCET and one in 1981 filmed at his annual New York Halloween show, are interspersed with then-cutting edge claymation/stop motion animation from Bruce Bickford and assorted comedy bits.

Since 1966, Zappa had established himself as perhaps the most fearless musician known to popular music. He incorporated modern classical music, blazing rock and blues and doo wop, guitar solos he called "air sculpture" and an extremely cynical point of view to forge a legacy that remains completely unique 12 years after his death.
The Cover:

From Mike Espinoza (October 27, 2005)
For those who haven't purchsed the DVD, the bonus material is a
7-minute Valley Girl documentary featuring Frank, Moon, Dweezil,
Ahmet, and Gail (circa 1982). It is hosted by the same blond guy
who's in the wrong century. It includes audio of "Valley Girl" and
"My Mother Is A Space Cadet" as well as other stuff. There is, also,
the Baby Snakes trailer, a discography, and an ad for the Dub Room
Special soundtrack CD (which I'm sure will be released right after the
Roxy DVD).
DVD Re-release
Eagle Rock
October 14, 2013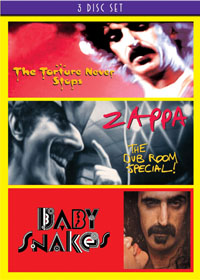 This Special Edition 3DVD set brings together three programmes by Frank Zappa.
Differences
From the DVD liner notes:
Originally conceived as an actual TV special, FZ created this program in 1982 at Compact Video. Late in 1992 he made a D2 master at Kober Post (with Booey Kober). It is just ever so slightly different from the original, in part, to conform to the then current technology, Laserdisc! Voodnnnnn.
And now, the differences:
At 0:08:02, 32 seconds missing, including the "What Is The Dub Room Special?" scene.
At 0:55:40, 37 seconds missing, including the intermission.
From Mike Espinoza (October 27, 2005)
At the end of "Florentine Pogen", the video is freeze-framed at Chester's final cymbal hit. This is then faded into the dub room footage where Frank is talking about his pink sweater. Basically the whole "Intermission" and "And now part two" segments have been cut out (including "Thank you. Chester's Gorilla was played by Marty Perellis."). Also, that part of the dub room footage is inexplicably in black and white, although it was originally in color.
Aditional Informants: John, Sergio Martorelli

Maintained by Román García Albertos
http://www.donlope.net/fz/
This section formerly maintained by Reverend Neve
This dog last modified: 2022-07-22