Issues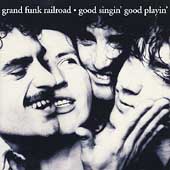 "Can You Do It"/"1976"

(7" single, MCA 40590, July 26, 1976)

Good Singin' Good Playin'

(LP, MCA 2216, August 9, 1976)

Good Singin' Good Playin'

(LP, EMI 1503, 1976)

"Just Couldn't Wait"/"Out To Get You"

(7" single, MCA 40641, November 1, 1976)

"Pass It Around"/"Don't Let 'Em Take Your Gun"

(7" single, EMI 10 C006-06.366, Spain, January 14, 1977)

More Of The Best

(CD, Rhino R2 70530, June 25, 1991)

(includes "Just Couldn't Wait" and "Can You Do It")
Good Singin' Good Playin'

(CD, Hip-O HIPD-40144, January 12, 1999)

Thirty Years Of Funk: 1969-1999

(3CD, Capitol/EMI 72434 99523 2, June 29, 1999)

(includes "Can You Do It," "Pass It Around" and "Crossfire")
Credits
Good Singin' Good Playin' (CD, Hip-O, 1999)
Produced by: Frank Zappa
Basic Tracks and Re-Mix Engineered by: Frank Zappa
Vocals Engineered by: Michael Braunstein & Davey Moire
Assistant Engineer on Basic Tracks: Mark Stebbeds
Basic Tracks Recorded at: The Swamp
Vocals & Re-Mix Recorded at: The Record Plant, L.A.
Photography: Gary Heery / Norman Seeff · Design: Norman Seeff
What About This Album?
Patrick Neve
I don't know much about this album other than I guess it was enough of a flop for Grand Funk to pretty much seal the fate of their career. Also, the solo on "Out To Get You" is nearly my favorite recorded Zappa solo. Go figure. The only clue I've got as to how this unlikely team-up occurred is that Don Brewer played bongos on "Lemme Take You The Beach." Beyond that, I wish I knew how these two camps hooked up.
David Alston
In some of my own research on the "Good Singin' Good Playin'" album, I found that the album is by and large considered Grand Funk's best and most consistent album from front to back. The reason for its flop was less due to the quality of the music and more due to the fact that disco and dance music had taken a larger part of the market share in pop music.

Additionally, the band had been pegged as a singles band from their two albums with Rundgren and one very pop-oriented studio album with Jimmy Ienner which sounded like the Raspberries or something. The album itself is a pretty good snapshot of what the band sounded like and Zappa's production made the band sound very intense. For the time period, the album is somewhat of an abberation and it doesn't sound like anybody involved was interested in compromising to satisfy the disco monster.
Zappa Production & Participation
Frank Zappa Sessions Information, compiled by Greg Russo, August 2003
GRAND FUNK 07/01/76 (1:30-4:30PM) The Swamp, Fenton, MI—Out To Get You (lead guitar overdub)
MUSICIANS: FZ (leader)
David Yonke, "Grand Funk Steered Clear Of Others' Pitfalls," The Blade, August 10, 2006
One of the band's memorable albums was "Good Singin' Good Playin'," released in 1976 and produced by Frank Zappa. Brewer said the group wanted to hire a producer who had a completely different musical approach from Grand Funk."We were looking for something off the wall and thought Frank Zappa and Grand Funk would be a very odd combination. . . . We were expecting this weird genius, that was his image. But he wasn't. He was just a regular guy." Brewer said Zappa didn't try to change Grand Funk, but just wanted to capture the band doing what it does best. "He was totally cool, going with the flow. We didn't know what to call the album and he came up with the name. He said, 'Why don't you just call it what it is—"Good Singin' Good Playin'"?'"
I am forwarding a unique photo that was snapped one night while I was mixing the Grand Funk album that I coaxed Frank into producing. It's in the old Studio A at RPLA on another API that I think went into the DesignFX remote truck, if I recall. It's kind of a rare photo of one of Frank's rare production gigs.
MURKsoyg
Did FZ ever comment on the production of this record by Grand Funk?
Biffyshrew
"All I did was in a documentary way make a record which tells you exactly what they really sound like. For the first time on record you can hear Grand Funk Railroad...and they're fantastic, fan-tastic with an F three times taller than you!"—FZ
Why, then, did Zappa produce the next Grand Funk album, "Good Singin', Good Playin' "?

"Because they're great ------- singers. They liked the way I produce. They heard 'One Size Fits All' and called me up."

The album, due in August, is straight, driving rock and roll "with balls," Frank says, and added he would produce them again in a minute.

"They're the great undiscovered band in the world. They're really good people. They've got a great sense of humor. In fact, they're about the only rock and roll people in the industry I enjoy hanging out with."
Producing Grand Funk has nothing connected with moving into the mainstream. I heard their music and I liked them and I thought it would be fun to do. I hadn't paid any attention to them before. What I had heard about the group I'd read in newspapers and they're all full of shit. So there you are.

[...] I know for a fact that people who have reviewed Grand Funk albums sometimes don't listen to the albums. I know of one guy who did a review for Rolling Stone, where he took the cover of the All The Girls in The World Beware and set it up in front of the typewriter and wrote a review of the album but never played it. With that kind of shit going down and since I've had my fun and games with the press of the world, I was leery believing anything I heard about them. I went out there and listened to their material. They gave me some albums to take home to listen to and I thought about it. I went back to see how the material developed after they had rehearsed for two months. They were ready to record. I just took the stuff first hand and met the guys. I was surprised because everything I ever heard indicated that they were sub-morons and unmusical.

[...] Shit, they play, they sing and they're great—nice guys. They had it together the first time I went to listen basic tracks right there at their studio. It was very much of a technical thing. I went and listened to how the band sounded and discussed with them what kind of a concept they had for the album. The one thing they wanted to stress more than anything else was to try and make the record sound like what the band sounds like. An unadorned effect. Most of the tracks were just the way they played them. They went for a feel on all of the tunes rather than produce everything into the ground. They did 11 tracks in four days and did all the vocals in a week.
Tom Tuerff
A few years ago I called Mark Farner on a radio show and asked him about working with Frank. He said FZ never stopped drinking coffee and NEVER stopped smoking the whole time they worked with him.
Grand Funk's getting back together. [...] They asked me to produce their next album and [...] I'm not gonna do it and about the guitar solo, on the Grand Funk album, I produced before, I didn't want to play on it but I was trapped into doing it because of just circumstances that occurred during the production. Mark Farner had already gone back to his ranch or farm or whatever it is in Michigan and the tune that I played on was a song that was written by the piano player and it was just a track and he didn't have anything on the album and they took something out that had already had vocals on it just so he could have a tune on the album and it was unfinished and we were already in the process of mixing by the time that changeover was made, so they asked me to fill in this blank that was in that song and I didn't want to do it, but I did it and so it's on there. I mean I enjoyed working with them and they're nice guys and I think that the album was a good album, but they broke up right after that album was made. They were supposed to go and tour to promote it, but they broke up.
They'd asked me to play on the album (Good Singin' Good Playin') but I refused. Finally, I had to because we'd had to add a Craig Frost tune, an instrumental ("Out To Get You"), at the last minute. I really shouldn't have done it, because when the album got reviewed—just to show you what assholes the people that write about these things are—the only thing they wrote about was that song because I'd played on it. They said I played well on it. I don't think I played well on it at all. It doesn't sound that good, it's just a stupid guitar solo. And they wrote that was the only thing on the album and reviled everything else. I think they were full of shit. The band was having troubles anyway—they broke up during the vocal overdubs and I was having to hustle to keep them together. When the reviews came out they broke up for good, didn't tour or promote the album, so the record went onto the junkpile of rock and roll history. Which is a shame.
Questioned as to whether he'd be getting into any more outside production work, like with Grand Funk [...], Zappa gets dodgy.

"Well, I've already offered to do their next one if they want me to. I guess I'll know whether they want me to, and whether I'll have time, when we get back."
During [Good Singin', Good Playin'], Grand Funk was in the process of breaking up. Of course, Frank knew. He could pick up on the tension and all of that kind of stuff. There was a point that I had had it. I was going to leave the session and [frontman Mark] Farner had had it. Frank, unfortunately was in the position of getting us both together and trying to salvage it and get us through the album—and he did. I give him complete credit for that. He got us through that record.

[...] I remember Frank came out to go through a rehearsal with us at our studio out in Michigan. We had decided we were going to work together. After he attended the session, we were throwing around, "What are we going to call this record? I can't come up with it. We've got to have a concept." Frank said, "Call it what it is, 'Good Singin', Good Playin.'" We were blown away. Here's Frank Zappa. Oh, my God, Frank Zappa, the musician's-musician kind of thing—and he thinks Grand Funk Railroad is good singin', good playin'. It was an extreme compliment.
Sandy: You worked with Grand Funk. Was that a joke, or did you genuinely think they were underrated?

Zappa: I liked them, and I like that album. I also happen to like Black Sabbath and ZZ Top.
Whatever Happened To Grand Funk Railroad
Kristian Kier
They released a live double cd a few month ago. Some kind of reunion, the concert was recorded last year in Bosnia, at least that's the title of the disc...
The 1999 CD Re-issue
Tal
BP79 says that on Jan.12 1999 Good Singin' Good Playin' by Grand Funk Railroad will be released on cd. For those who don't know: FZ produced it and plays guitar on one track.
RICKDC
The Frank Zappa Produced Grand Funk Railroad Album, Good Singin Good Playin (names by Frank) (1976) was finally released on CD on January 12th. Frank Plays lead Guitar on the song Ought To Get You, and he sings some backing Vocals on the song Rubberneck. This song was left off the album, but now is included on the CD. It's total Zappa meets GFR. The CD is on Hippo and the CD number is Hippo 40144.
RailRoos
John Austin, from MCA, has uncovered the original photo session portfolio, and has included several previously unpublished photos in the booklet to be included with the cd. While no promotion is planned, the entertainment buyer for both the K-Mart and Walmart chains is very enthusiastic about this release, and plans to both feature, and stock, this cd heavily in all of their stores.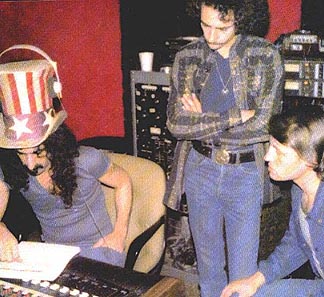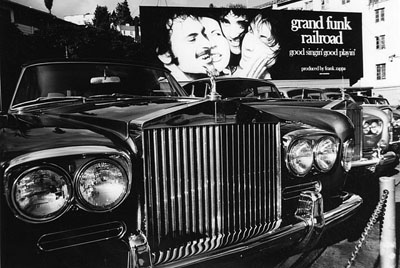 Sunset Strip, 1976