Notes & Comments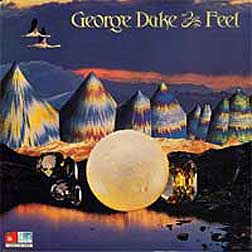 LP, BASF MC-25355, October 28, 1974

LP, MPS Verve # 821-665-1, 1974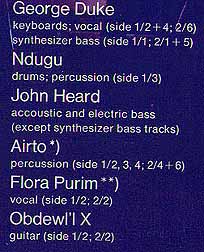 Zappa Involvement
Lewis Saul
FZ plays solos on two tracks from the LP "Feel." "Love" and "Old Slipper". "Love": Frank's solo is rippingly gorgeous. Duke's beautiful song about love would seem to not exactly be Frank's kind of lyric, but listen carefully. ("People, wake up! You've gotta...") I love the smooth, silky feel of it all as he sings... "whaaaaaat the fuck...."

"Old Slipper" also has an excellent solo. He is credited on the album as "Obdew'l' X" (see THINGFISH). It's extremely interesting to hear FZ rip away in GD's own musical environment!
Mick Ekers (January 1, 2012)
Like contributor Lewis Saul I was under the impression that George sings "What the F*ck" on the song "Love". I mentioned this to George when he recently gave me an interview [for my Zappa's Gear book], suggesting it was a sign of rascally Frank's bad influence, but George corrected me—the lyrics are in fact

"What's this feeling within?
That so wants to be expressed—myself
WHAT THE FORM we can't really say
Because it constantly changes"
George Duke's Comments
With this recording, I began experimenting more with synthesizer orchestration. The funky side of my nature was really beginning to show. I also began to sing more. This was the first time I really tried to sing a song on record. The other times, it was more like scatting.

I have been asked many times who the guitar player was on "Love" and "Old Slippers". It was Frank Zappa using the alias name, Obdewl'l X. Just as an aside, I did an arrangement of "Old Slippers" for a Joe Henderson album also.

Back in the 70's, Fantasy records was a haven for jazz. There were three studios, and at any given time, I could walk out into the hall and see Joe Henderson, Cannonball Adderley, Joe Williams, Sonny Rollins or Gene Ammons. Because of this incredible informal interplay, most of us wound up playing on each other's records. Hence, on this LP, you can find the services of Airto perc, Flora Purim vocals.

I really think it is possible (and still do) to make good music and be commercial at the same time. I believe it is the artist's responsibility to take the music to the people. Art for art's sake is nice; but if art doesn't communicate, then its worth is negated, it has not fulfilled its destiny. Uh oh, I guess I'm getting heavy.

Anyway, Feel remains a favorite with many of my fans. Also, college radio was very important not only to this album, but to fusion/funk/jazz artists in general.

I would also like to mention that this record began a long relationship with Kerry McNabb, who was an incredible recording engineer at Paramount Recording Studio in Hollywood. His recordings still stand up today. I met him through the many hours of work in the studio with Zappa. I started calling him Mr. McFreeze because he liked the temperature at sub freezing levels in the studio. Last I heard, he took over his fathers company which specialized in making knobs.
Frank actually did a demo for me, that he produced and I did three tracks. One was 'Uncle Remus', one was the tune called 'Psychosomatic Dung', and another was . . . I don't remember. It was another tune. And we were going to, originally take it and maybe put it out on this label Bizarre, or one of the other labels that he had, that was running, I think Warner Bros. at the time I could be wrong about that. It might have been Mercury, I'm not sure. So anyway, we went into the studio and all the time I was working with Frank I continued to make my own records for MPS at that time, whenever we were off and I had some time, and so we were in the studio and I was working with Frank, and I was working on my record whenever we weren't working, so I just asked him if he could come play something. There was a tune called 'Psychosomatic Dung' which I believe was on the first—on the 'Faces and Reflections' record which was my MPS record on the new contract in the seventies, which Frank didn't play on. But he actually produced the original track. I took those tapes and actually did some arranging, put my band on it and all that, so there was this other tune that I thought'd be great for Frank to play, but we never recorded it when Frank was producing the stuff for me, so he just came in and played. But I couldn't use his name; it was really as simple as that. And so eventually I said "Frank, I gotta have a name. I know I can't use your name." And so he says "Okay, Obdewl-l X!" and then he spelled it for me and I said "Really? Okay. Fine." A lot of people ask me who that was over the years.
Availability
MC (April 4, 2002)
According to the Idiot Bastard Sons's newspage, George is starting his own label and plans on re-issuing his old stuff(some unreleased). Hopefully "Feel" will be one of them. I've got the 2CD German import of the 3 albums after that. Pretty good stuff.

Check George's site for some info.
Site maintained by