T.T.G. Studios, LA
July 4, 1966
Notes & Comments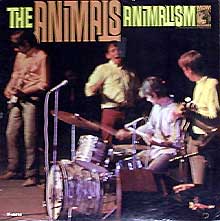 Releases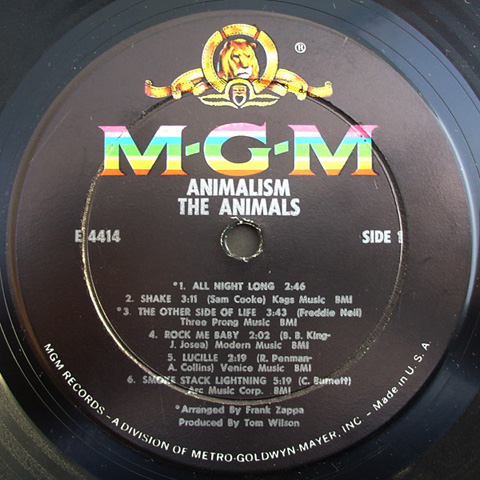 Zappa Involvement
On July 4, 1966, on what you might describe as a moment's notice, I was asked to manufacture, on behalf of Tom Wilson, for the Animals, a musical organization from England, a set of arrangements. I was told: just go in there, tell the musicians what you want and they'll play it.

I get to the studio at 11 o'clock. I'm the only one there. Then Tom Wilson comes in. He asks, 'Where are the Animals?' I say, 'Gee, I don't know, Tom.'

I had called the musician's union and I brought down a girl who plays the bass and 12-string guitar, who's a monster named Carol Kaye. She's really good . . . one of the top studio players in L.A. Also, Don Randi on piano, Johnny Guerin on drums. I was playing guitar on one tune and the bass on 'The Other Side Of This Life,' and I had a guy on harmonica, the guy who originally wrote 'Hey Joe.'

Eric shows up with his drummer around 1:30 or so because they had been to a monster party the night before [...]. They come walking in and everyone starts playing demos for them because they didn't even know what they were going to record. Meanwhile we have all these union people sitting around at triple time because it was a holiday. They were waiting to find out what to do.

Finally they decide what they're going to cut, we make two tracks with the union guys, and then the Animals themselves show up around 4 o'clock in the afternoon and they run through four or five old R&B songs like 'Long, Tall Sally' and 'Hit The Road, Jack.'

The two songs the union cats played sounded pretty tight. They sounded better than the Animals. Different. It was a different mix.
Alain: What was your contribution with the Animals LP, Animalism?

FZ: I was hired to produce 2 songs for them by the guy who produced the original Mothers Of Invention, Tom Wilson. He was busy that day and he was also supposed to produce the Animals and he asked me to go in and do it for him, so I did. I arranged a couple of songs and I might have even played on it. I can't remember. But the session occurred on the 4th of July, I remember that, and since that's a holiday in the United States, the cost of the union musicians was triple and the session was very expensive. Eric Burdon showed up very late and everybody was quite upset because the band had learned the tracks and there was no Eric to come in and sing it.
07/04/66 (2:30-5:30 & 5:30-9:00) T.T.G. Studios—Song X (final title: "All Night Long"); The Other Side Of This Life
MUSICIANS: FZ (arranger and leader), Benjamin Barrett (OM), John Guerin (drums), William Roberts (guitar), Laurence Knechtel (organ), Carol Kaye (guitar)

07/05/66 (11PM-2:30AM) T.T.G. Studios—Hit The Road Jack; Lucille; Smokestack Lightning; Louisiana Blues (NOTE: These musicians were not used on the final recordings as The Animals actually played on these tracks.)
MUSICIANS: FZ (arranger and leader), Benjamin Barrett (OM), William Roberts (guitar), John Guerin (drums), Carol Kaye (guitar), Don Randi (organ)
Biffyshrew
As many of you know, FZ did some arranging for the Animals in 1966, the results of which are two songs on the US-only album Animalism. There's no credit on the cover for FZ's contribution. FZ did not produce, but arranged (and almost certainly played on) two tracks on Animalism: "All Night Long" and "The Other Side Of This Life." I'm convinced that he plays both guitar and bass. Certainly the solo on "All Night Long" sounds like FZ circa Freak Out/Absolutely Free.
Leonard Los
Both songs were recorded at T.T.G. in Hollywood (engineered by Ami Hadani). Does anyone know for certain if Frank performed on these two cuts?. The guitar playing on these cuts are certainly not that of Animal guitarist Hilton Valentine, and being Frank's arrangements, It would seem logical that Frank would have some input musically.
Charles Pater
The Other Side Of This Life . . . could have FZ on the 2nd guitarsolo. Also I noted that the opening riff is similar to the one he used on No Matter What You Do, a song he did in the late sixties.
Biffyshrew
The very psychy guitar in the raga-rock breaks of "All Night Long" surely HAS to be Frank. I'm not 100% positive, but I think FZ is playing that very busy bass part on "Other Side . . . " (It sure sounds like a guitarist playing bass.) The guitar on that track may be Valentine playing through FZ's rig, as it has something of Zappa's SOUND, but little of his style.
Biffy the Elephant Shrew
I remember reading this somewhere in the early '80s—that FZ played guitar on one track, and bass on another (presumably "Other Side Of This Life"). I thought this was in Goldmine, but when I looked it up, years later, I found no such reference in the article they did on the Animals at that time.
Animalism, not Animalisms
Biffyshrew
Beware of a European LP called Animalisms (with an "s"), which is a different album. The album you want has a dark cover with a blurry action shot of the band lit in orange/yellow light (only Eric Burdon is facing the camera).
The single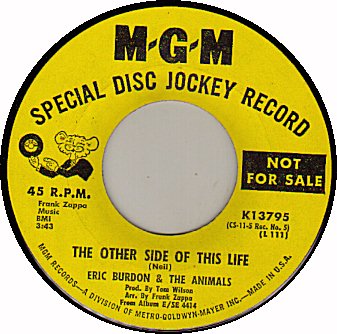 ERIC BURDON & THE ANIMALS—It's All Meat/The Other Side Of This Life
(Zappa arranged the B-side; the above stereo single was record 5 of a 5-single box seet [Box CS-11-5] distributed to coin operators for jukeboxes. The B-Side should have been credited to The Animals, since it was recorded by the third Animals lineup—before their final breakup and name change. See "Animalism" LP listed below)
The Song Publisher
Biffyshrew
I just found a copy of the single of one of these songs, Fred Neil's "The Other Side Of This Life." Unlike the LP, on which FZ goes uncredited, the label of this single mentions FZ's contribution. But strangely, the publishing rights for the song are attributed to Frank Zappa Music, BMI! On Animalism, the publisher is given as Three Prong Music. On the Jefferson Airplane's version of the song, the publishing credit is Third Story Music. Boy, that song sure gets around, doesn't it?
Charles Ulrich
"Other Side Of This Life" is credited to Third Story Music BMI on Fred Neil's own album Little Bit Of Rain. And when I was looking that up, I noticed that Fred Neil's eponymous album features Billy Mundi, as well as Nick Venet, who commissioned Lumpy Gravy. That album included the song "Dolphins", which was later covered by Tim Buckley on his DiscReet album Sefronia, with Earle Dumler on English horn.
No Matter What You Do
Magnus Delle
Also, the intro on "All Night Long" is from a FZ song. Which is it?
Biffy the Elephant Shrew
See "No Matter What You Do" on Tis The Season To Be Jelly.
Charles Pater (July 25, 1999)
On the Animals album Animalism (MGM 4414 from1966) appears the song All Night Long composed, arranged and produced by FZ.

This song has the same intro as No Matter What You Do, a song FZ performed in the late sixties . . . I only know about one performance on 30SEP67 in Stockholm (Jon !?).

Does somebody know if this song is an FZ original, or is it a cover, if so who did the original?
computeruser (July 31, 1999)
My copy of Animalism (MGM 4414) mentions Zappa arranged the song All Night Long, yet it makes no mention of him composing or producing the track.
Charles Pater (August 1, 1999)
Well . . . the label (SE4414) I've got here says: All Night Long—2:46 (Zappa) Frank Zappa Music-BMI) and indeed the production was by Mr. Tom Wilson (Hmmm).
Working With Zappa
Patrick Neve
I remember reading (but didn't save) a post saying that when Eric Burdon was asked what it was like to work with Frank Zappa he said it was like working for Hitler. Anyone have a source for that?
Charles Ulrich
Miles mentions it on p. 25 of Frank Zappa: A Visual Documentary, if that counts.
Geir Corneliussen
I think they were more interested in partying than getting things done.
Zappa & The Animals
Biffyshrew (September 20-21, 1998)
. . . didja know that Frank Zappa is mentioned by name in the title track of Eric Burdon & the Animals' Winds Of Change?

The song is mainly a laundry list of musicians EB considered hip, starting with old jazz and blues guys and moving up through rock & roll to some then-current psychedelic faves, and including a rather jarring juxtaposition:

"Then came the Beatles, Rolling Stones,
A whole new thing was going on,
Frank Zappa zapped,
Mamas & Papas knew where it was at"
Eric Burdon On Zappa
Biffy the Elephant Shrew
"I listen to the Mothers of Invention a lot and I think they're fantastic. Frank Zappa, in particular, is really doing great things. If he doesn't become one of the major forces in pop music within the next two years, there's no justice in the business."—Eric Burdon, 1967
pepe (July 31, 2002)
Reading Eric Burdon's book "Don't Let Me Be Misunderstood," he says he and Frank put two tracks together: "All Night Long," and "The Other Side of This Life." Also, "Frank was brilliant, a musical genius and cultural maverick. He was also, well, weird. It's hard to come up with a better word to describe him. Everyone around Frank was stoned, and he was always straight as an arrow." They talked a lot about film, and Frank showed him some amazing home movies that he had shot. He also says Frank liked to call Eric the "Charlton Heston of rock and roll." Some other Frank references later on in the book, I am only half way through. It is a good read.