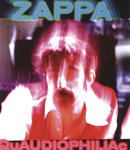 Quaudiophiliac
(Zappa, DVD-A, Barking Pumpkin/DTS 1125, September 14, 2004)
Produced by FZ & Dweezil Zappa
Original recordings & original 'quad' mixes by FZ
2004 surround program engineered by Dweezil Zappa
Surround mastering by Stephen Marcussen
Vaultmeisterment by Joe Travers
Executive prod & art direction by GZ
DVD menus & overdrive by Keith Lawler
Packagement by GZ & Keith Lawler
Liner notes by Dweezil Zappa
Program notes by GZ & Joe Travers
Cover photo by John Williams
Related links:
4. Drooling Midrange Accountants On Easter Hay
2:15
includes The Deathless Horsie
Music:
prob. Village Recorders, LA
c. March 1978
Interview by Ben Manilla
WLIR
c. November 17, 1981
4-channel mix:
Village Recorders, LA
May 10, 1978
Engineer: Joe Chiccarelli
FZ—voice
Tommy Mars—keyboards
Ed Mann—percussion
Once upon a time, a record company had A&R people in it who would take a chance, make a decision, use their gut reaction, sign a group, and see what they could do with it. Okay? That was, whoa, a long time ago. It's not that way anymore. All decisions about who get signed and what happens to the record are made by these drooling little midrange accountants. And everything is based on the numbers games in there. And the taste of the accountants is what is ruling the mass media. It's all just the dollars and cents of exchange. And if you wanna make music that you believe in, the chances of doing it on a major label basis are nil, because they're all so frightened. Everybody's there trying to protect their job. And it's easy— it's easier to look like a wise executive by saying no to something if it's just the most minutely fringe-oid in terms of content.
No.
The horrible part of it is the artists who are feeding this ecological chain stop making songs they believe in and start making product that they know will be airable. And they change the style of what they're doing to fit within the narrow framework that is the contemporary accepted norm for suitable, radio-sounding music. And anything that comes outside of that norm doesn't go on the air, you don't hear about it, you don't know about it. Right now there's probably hundreds of artists in the United States making great sounds and great music. You'll never hear it. You'll never find out about it.
5. Wild Love
4:07
includes a section from Sinister Footwear 2nd Movement
Basic track:
Hammersmith Odeon, London, UK
February 28, 1978
Overdubs:
Village Recorders, LA
c. March 1978
4-channel mix:
Village Recorders, LA
May 10, 1978
Engineer: Joe Chiccarelli
FZ—guitar, vocals
Napoleon M. Brock—vocals
Randy Thornton—vocals
Adrian Belew—guitar
Tommy Mars—keyboards, vocals
Peter Wolf—keyboards
Patrick O'Hearn—bass
Terry Bozzio—drums, vocals
Ed Mann—percussion
David Ocker—clarinets
Many well-dressed people
In several locations
Are kissing quite a bit
(Yea-ah!)
Later in the evening
Leaves will fall
Tears will flow
Wind will blow
Some rain; some snow
A fireplace maybe
A kiss or two
And down they'll go
But that's the way it goes sometimes
(That's the way)
You just might find yerself in the clutches of some
Wild Love
Mama stroked his dinger
Daddy got a stinky finger
In those days of long ago
(Yeah-ah!)
Later in the evening
She'd complain
They'd refrain
He'd go home 'n hone his bone
A tragic case maybe
But also true
I'm sure you know
But that's the way it goes sometimes
(That's the way)
You just might find yourself in the clutches of some
Wild Love
Now'days you get dressed up
'N later you get messed up
But still you're pretty hip
(Yeah-ah!)
Later in the evening
You'll explain
She'll remain
You're real modern
She's the same
A frantic pace maybe
But who's to say
Where it will go
10. Basement Music #2
2:43
4-channel mix:
Village Recorders, LA
April 30, 1978
Engineer: Joe Chiccarelli
FZ—synthesizers
Surround Music Awards Presentation
FZ:

There is going to be a six-channel playback of some of the material generated on the Synclavier.

That will be reproduced from a Sony 3324.

All the concerts will have a six-channel P.A. system.

All the musicians on stage will be miked in a way that they can be positioned around the audience. Kind of an interesting special perspective.

Well, it was the idea putting catalog music through a wire, so that you could bag it yourself at home, but I was unawared of the limitations of baud rate in telephone transmission, and there was no way to do a fast dump of something with that kind of a bandwidth.

All compositions by Frank Zappa except as noted
Site maintained by Román García Albertos
http://www.donlope.net/fz/
Original transcription for new material by Román & Charles Ulrich
Corrections by Randy Cech
This page updated: 2023-11-18