---
Zappa had meanwhile taken his BIZARRE & STRAIGHT labels out of the conceptual cauldron and unleashed them on the Earth, producing such blasphemies as WILD MAN FISCHER, ALICE COOPER, and the G.T.O.'s (as well as a big-selling solo effort, HOT RATS).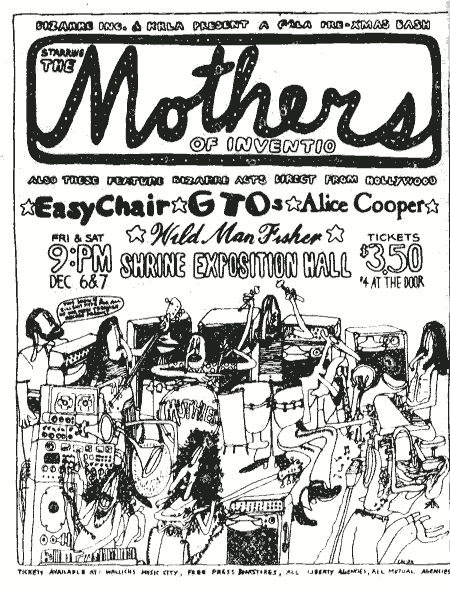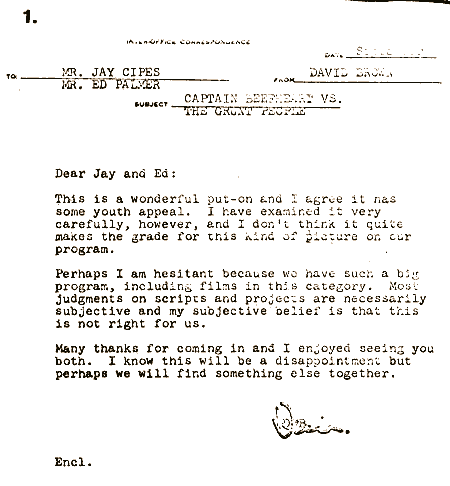 1. Rejection notice of Captain Beefheart screen play (most recent of a long series).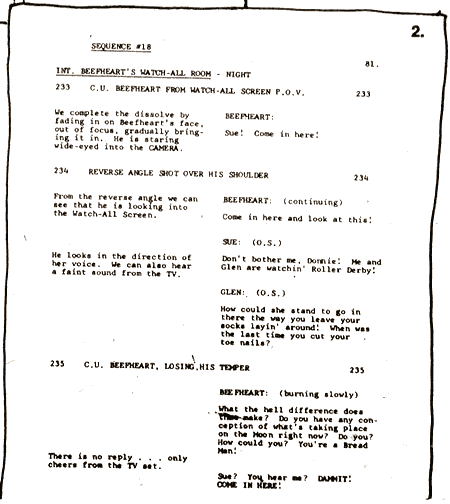 2. Sample page from original Captain Beefheart vs The Grunt People shooting script.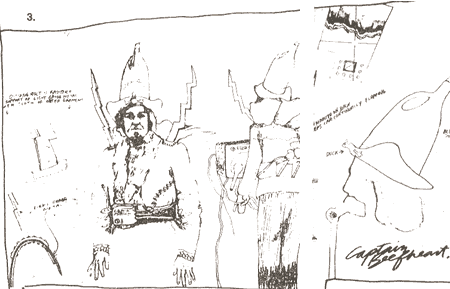 3. Costume design for Captain Beefheart. Hat is made from plastic bleach bottle (crown). Brim is children's toilet seat with duck. Battery operated fan attached at waist keeps horribly foreshortened cape in state of incessant flaptitude (thereby making him look like he's going faster).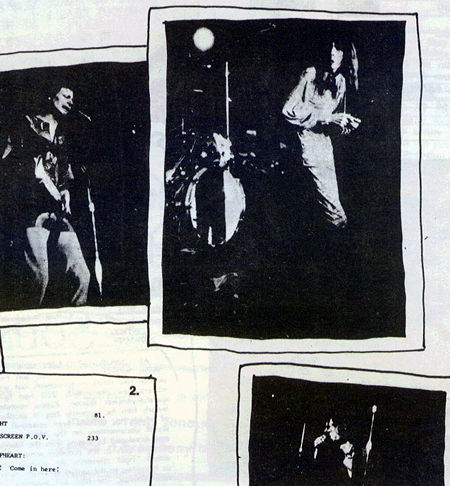 Left, The Shrine gala pre-Xmas bash: clockwise, Wild Man Fischer, Alice Cooper, Kim Fowley.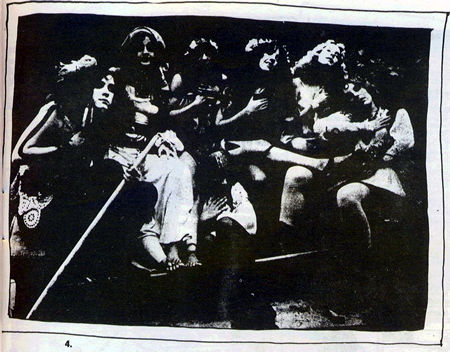 4. The G.T.O.s
---
Distant Drummer, March 18, 1970

BURNT WEENY SANDWICH—The Mother of Invention, Bizarre 6370

by EDGAR KOSHATKA

This is really outstanding, perhaps the finest instrumental music to come in so far this year. Although it contains the usual "shoobidabah" satires and Musique-Concrete forays of the traditional Mothers, BWS has on it one 22 minute cut which should go down in rock history as one of the finest blowing pieces of all time. Entitled Little House I Used to Live In, it is an obvious minor-masterpiece from inception, with Ian Underwood, Don Preston, and Suger-Cane Harris all doing some breathtaking solo work. The violin seems to get more popular with each passing month; Harris' work on it here exemplifies the increasing sophistication with which it is being used. As eclectic an album as the Mothers have ever done, BWS contains virtually everything from the modern Mothers menu, from orchestrational brilliance a la Zappa to southern California Chicano riffs. If you dug "Hot Rats" you'll love this one too.
---
The Signal, Fri., Feb. 20, 1970

Rapping

The latest effort by the "Mothers of Invention" is out, the first release since the decision by Frank Zappa to forego any more live appearances "until everyone catches up" to where the Mothers are at now.

"Burnt Weeny Sandwich" is one of the "Mother's" best albums thus far. It is difficult to see how Zappa can keep progressing when he is already light years ahead of the rest of the pack.

You can talk about Lennon-McCartney, Dylan, Simon and Garfunkle and the rest, but Zappa is the only true genius on the music scene today.
---
The Hollywood Reporter, Wednesday, January 21, 1970

Sound Track

By MATHY ORLOFF

AN UNPUBLICIZED SCREENING of Frank Zappa's 20-minute filmontage, "Burnt Weenie Sandwich," at San Fernando Valley State College had to be run five times in succession last week, when 2000 rain-soaked students materialized where only 200 had been expected. During the subsequent question-answer session, Zappa revealed the first details of the feature-length film he currently has in production, "Uncle Meat" (the soundtrack of which has already been released). The film is a multi-level, four-track stereo documentary on the Mothers of Invention, the ensemble originated and developed by Zappa into the foremost of the iconoclastic groups. Documentary only in the broadest sense of the word, Zappa emphasized the film would "hold relevance for anyone who is concerned with social change as it applies to the period in which we now find ourselves." Through collected rare footage, the film will examine various forms of pop weirdness from which current lifeways have evolved. Material on the Mothers will come from Zappa's personal library, which contains over 200 hours of film. Special interview sequences, to be shot with individuals intimately connected with the historical period under examination, will tie the work together. With narration by Zappa, the film just may unlock some of the mysteries which have been plaguing Motherophiles and pop culture historians ever since a doll's foot and a giraffe first came together at the Garrick Theatre in New York four years ago. . . . Dough Kershaw will team with Beatle George Harrison to theme and write two songs for ABC Films' "Zachariah," which features Ginger Baker and Country Joe and the Fish. Kershaw will also have a running part in the flick.
---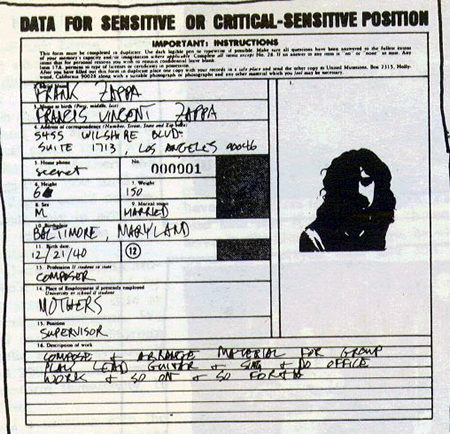 ---