The Yellow Shark by Frank Zappa
September 17, 1992 (Worldpremière)
Alte Oper Frankfurt
Premiere TV (German PPV)
88 min.
The music:
Appears in:
See also:
---
Music composed by FZ
Music conducted by Peter Rundel & FZ
Performed by FZ & Ensemble Modern
Peter Rundel Conductor, Violin
Dietmar Wiesner Flute
Catherine Milliken Oboe, English Horn, Didgeridoo
Roland Diry Clarinet
Wolfgang Stryi Bass Clarinet, Contrabass Clarinet, Tenor Saxophone
Veit Scholz Bassoon, Contrabassoon
Franck Ollu Horn
Stefan Dohr Horn
William Forman Trumpet, Flügelhorn, Piccolo Trumpet, Cornet
Michael Gross Trumpet, Flügelhorn, Piccolo Trumpet, Cornet
Uwe Dierksen Trombone, Soprano Trombone
Michael Svoboda Trombone, Euphonium, Didgeridoo, Alphorn
Daryl Smith Tuba
Hermann Kretzschmar Piano, Harpsichord, Celeste, Dramatic Reading
Ueli Wiget Piano, Harpsichord, Celeste, Harp
Rainer Römer Percussion
Rumi Ogawa-Helferich Percussion, Cymbalom
Andreas Böttger Percussion
Detlef Tewes Mandolin
Jürgen Ruck Guitar, Banjo
Ellen Wegner Harp
Mathias Tacke Violin
Claudia Sack Violin
Hilary Sturt Viola, Dramatic Reading
Friedemann Dähn Violoncello
Thomas Fichter Contrabass, Electrocontrabass
Dance performed by La La La Human Steps: Louise Lecavalier & Donald Weikert
Choreography: Edouard Lock
Production manager: Ian Donald
Stage director: Brian Michels
Live mix: Harry Andronis
Monitor mix: Dave Dondorf
Music copyist: Ali N. Askin
Sound system Fa. Dudda: Technicians: Norbert Ommer, Ralf Freudenberg
Sound coordination: Leslie Stuck
Recording mix: Spencer Chrislu (UMRK)
Soundmobile: Le Voyager (Paris)
Stagelight: Hannover Stagelighting
Lighting: Olaf Winter & Laurens Van Koppenhagen
Ensemble Modern: Business manager: Andreas Mölich-Zebhauser
Coordination: Andreas Knapp & Doris Oswald
Stage Manager: Bernd Layendecker
Coordination Frankfurt-Los Angeles: Mark Holdom (Barking Pumpkin Records)
Recording-van: Cinevideogroup Holland
Editor: Edgar Rössler & Horst-Dieter Tiemke
Production coordinators: Sascha Siebenlist, Sharon Mehler, Tahar Jaber, Nicole Schütte
Line producer: Paul Borgetto
Production Manager: Hennes Grossmann, Marcel Oosterwijk (IDTV)
Music adviser: Henning Lohner
Assistant director: Astrid Babonnick
Directed by Egbert Van Hees
Produced by Ilona Grundmann Film Produktion Germany
---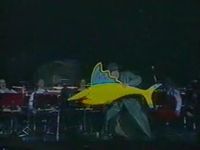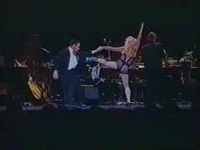 ---
Notes & Comments
From: Richard Fox
A performance of Yellow Shark was broadcast in Europe. With some hope, this will be released on video at some point in the US. But so far, noone seems to know if this will happen.
From: Marc Aurel
The German pay-tv station "Premiere" did a live broadcast of "The Yellow Shark", performed by "Ensemble Modern" at the "Alte Oper" in Frankfurt. Intermission is used for a special on FZ incl. lots of verbal and musical quotes and German comments).
From: Kristian Kier
YS was also broadcasted on normal tv, on ARTE, a german/france culture program which is accessable via cable tv. But without AAAFNRAA....
From: Brian Lagerman
Three versions:

09/17/92
THE YELLOW SHARK (CONCERT)
GERMAN PPV 125M 4
(INCLUDES PART OF THE "X-LARGE 20 JAHRE EXTRAVAGANZA" PIECE AS AN INTERMISSION FEATURE)

09/17/92
THE YELLOW SHARK (CONCERT)
ARTE 61M 4
(01/94 REBROADCAST, SUPPOSABLY HAS DIFFERANT CAMERA ANGLES)

09/17/92
THE YELLOW SHARK ALTE OPER
ARTE 88M 4
(2ND GEN AFTER PAL TRANSFER FRANKFURT, GERMANY)
Maintained by Román García Albertos
http://www.donlope.net/fz/
This section formerly maintained by Reverend Neve
This dog last modified: 2019-08-25